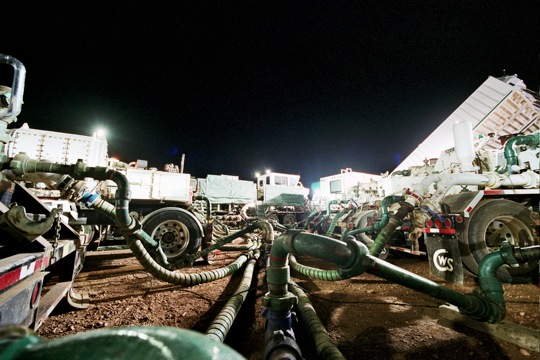 Force of Place: Oil and Water in North Dakota, is a multi media show comprised of projections and 35mm film photographs in black and white and color by artist Valery Lyman. Lyman is an award winning documentary filmmaker and photographer who spent her summers growing up on Martha's Vineyard. She has spent the last 4 years photographing and recording audio in the Bakken region of North Dakota, where she lived in a steel shipping container, documenting the rise of the oil industry there and the massive migration that has transpired along with it, as well as the events at Standing Rock and many other elements of oil related life in the region. Lyman will also give an artist talk at Sunday's event.
LYMAN- "Force of Place: Oil and Water in North Dakota is not about the politics of what is underway in North Dakota. Rather, it seeks to convey the force of the place and the lived experience of those who are a part of it, without judgment. It is about people - both the oil field workers and the water protectors - who traveled long distances and endured great hardship to do what they felt they had to for their families. It is about the moving power of this particular land - its wild unpredictability, the big dramas it seems to attract, and the scale of human bodies and effort within its vastness. The land seems to have an anima, or will, all it's own, which is felt instantly and quickens the heart when upon it. According to the artist, "It is also about love. The love and human effort involved in people's lives amid the great power of the land and loneliness that swallows them."
Lyman also states: "I found something of the American heart in North Dakota. In the faces, clothing, physical posture, and in the voices I could feel the optimism and hardscrabble nature of the American spirit, and immediately sense what it had always been like to carve a township out of the unsettled landscape. There is an unusual rawness of emotion in people, as most are strangers in a strange land, and an acute alertness because life is so dangerous. As there is not enough of anything and people make due with what they have, there is none of the fat and waste that characterizes so much American life. This American sprit and courage is also embodied in the Water Protectors who have travelled from all over the country in a parallel migration to struggle against the extraction and transportation of this same oil in North Dakota."
The photographs range from stark penetrative portraits in intimate quarters or worksites, to large landscapes that show the scale of the elements, machinery, and human effort. The photographs are all 35mm film, and both black and white and color, to make use of the historicity of the medium and blend past with present.